During Devil's Night, I was horrified to find my desktop computer's hard drive was corrupted somehow, and my operating system wouldn't load! Or restore! Or reinstall! Yikes! Not to mention, most of my work this site talks about was on the thing!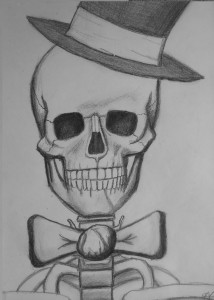 Thankfully, after several hours of experimenting, I was able to give in and take out the hard drive, and backup the files onto another laptop. Thank goodness for external hard-drive readers, best $30 I ever spent. I didn't get any sleep, but at least I'll sleep well tonight… the night when hundreds of strangers will be knocking at my door asking for free candy… oh well.
To get you in the holiday spirit, here's an old sketch that I happened to have on the barely usable hard drive. It was a simple art class assignment to sketch a human skeleton, but I looked outside the box and added a little style to make mine unique. Fitting to what Dust Scratch Games stands for, eh? Happy Halloween!